New figures come days before Autumn Budget in which Chancellor Philip Hammond is expected to announce raft of new housing policies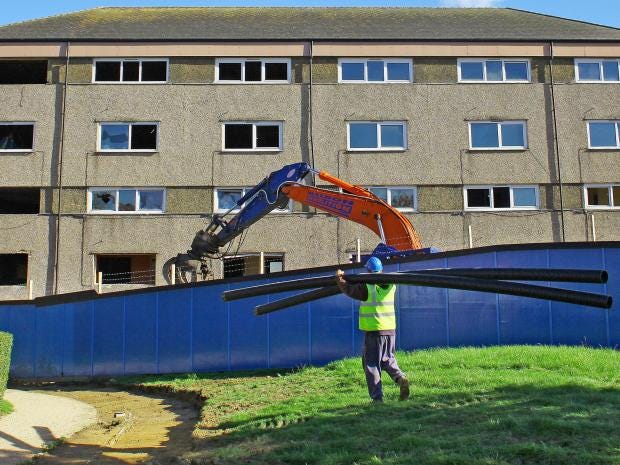 The number of council homes in Britain has fallen to a new record low, with fewer properties to rent from local authorities than at any point in almost 50 years, analysis of official data by The Independent has revealed.
Stock of council houses across England, Scotland and Wales has dropped to just two million and has now more than halved in the last 20 years, according to new government statistics. The figures do not include Northern Ireland because it stopped collecting the data in 2014.
More than 170,000 council homes have been lost since 2010 alone. The majority are likely to be properties for social rent, which are offered to local people at around half the cost of private market rents. 
The loss is the result of a range of factors, but commentators have especially highlighted the Right to Buy policy that sees council house tenants given a state subsidy of up to £100,000 to help them buy their home. 
Despite repeated promises from ministers, only one new home is being built to replace every five sold under Right to Buy.
The number of council houses in Britain has now fallen by 69 per cent since the policy was introduced in 1980 – down from 6.5 million. It had risen continuously up to that point.
The Local Government Association (LGA) warned earlier this week that enough homes to house the population of Oxford have been sold off under Right to Buy since 2012. – 54,581 homes have been sold but just 12,472 built to replace them.
As the number of council homes has fallen, more and more people have been forced to rent from private landlords and pay rents that are, on average, up to 50 per cent more expensive. 
The number of private renters has doubled in the last 20 years and now stands at 5.4 million. It has increased by a million – or 23 per cent – since 2010.
The latest figures paint a picture of a failing housing market and comes ahead of next weeks' Autumn Budget, in which the Chancellor, Philip Hammond, is expected to announce a raft of new measures designed to tackle the housing crisis. 
Ministers have come under mounting pressure to reverse policies that have seen the number of new social homes being built plummet by 97 per cent since 2010. The total number of homes built by councils across Britain totalled just 1,840 last year, although this was the second highest since 2012. 
Many more council homes are forecast to be privatised as a result of measures in the 2016 Housing and Planning Act, which forces councils to sell off their most valuable properties and extends the Right to Buy to housing association properties. 
Since 2011, government ministers have also mandated the building of "affordable" homes, which are around 30 per cent more expensive, instead of social homes.
At the same time, state funding for new social housing has plummeted and grants to help councils build homes have dried up.
Sajid Javid, the Communities Secretary, last month promised a "complete rethink of our approach to social housing" after the Grenfell Tower tragedy that killed 71 people. 
Theresa May has vowed to make house-building her "personal mission" and on Thursday promised that the Government "will be going further to ensure that we build more homes, more quickly".
"For decades we simply have not been building enough homes, nor have we been building them quickly enough, and we have seen prices rise," she said.
Commenting on the latest housing figures, Councillor Martin Tett, the LGA's housing spokesman, said: "There is no way to solve our chronic housing shortage without a renaissance in council house building. For that to happen, councils must have new freedoms to invest in new housing that would quickly generate huge returns for public services and local economies. If councils were free to borrow against their housing assets, they could build the homes that our communities desperately need.  
"The Chancellor has an opportunity to go down in the history books as the Chancellor who allowed an entire generation of affordable homes to be created, by allowing councils the freedom to borrow to build. We encourage him to take this opportunity in the Autumn Budget next Wednesday."
John Healey, Labour's Shadow Housing Secretary, said ministers must act to ensure homes sold under Right to Buy are fully replaced. 
"After seven years of failure on housing, Conservative Ministers have no plan to fix the housing crisis," he said.
"The government is forcing councils to sell off homes without any prospect of replacing them. Despite promising 'one-for-one' replacement, the reality is only one council home has been replaced for every five sold off under the right-to-buy.
"Labour would build 100,000 genuinely affordable homes to rent and buy a year, and undertake the biggest council housebuilding programme in at least 30 years to build the homes the country needs." 
A Department for Communities and Local Government spokesman insisted that since 2010, more council housing has been built than in the previous 13 years.
He said: "Affordable housing remains the Government's priority. Just a few weeks ago we increased the affordable housing budget to over £9bn to deliver a wide range of affordable housing, including social rent homes, by March 2021.
"The new funding will support councils and housing associations to build more genuinely affordable homes, in areas of acute affordability pressure, where families are struggling with the costs of rent, and some are at risk of homelessness."