Allegations of bullying against several senior MPs unearthed by BBC Newsnight investigation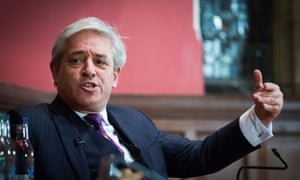 The House of Commons has been forced to deny claims of bullying by several senior MPs including the Speaker John Bercow, amid claims staff work in "a culture of fear".
Female clerks who work with MPs claimed to experience harassment or bullying, suggesting that speaking out about it could affect their careers.
It has been claimed to be a problem that runs from the most obscure of backbench committee rooms through to the most senior of MPs.
Allegations of bullying were made against several well-known politicians including Bercow, Conservative MP Mark Pritchard and Labour MP Paul Farrelly.
They were unearthed by BBC Newsnight investigation in which journalists conducted dozens of interviews and reviewed internal parliamentary human resources documents.
One female clerk was described as having developed post-traumatic stress disorder after she worked for Bercow and the programme cited witnesses who said they saw him undermine and shout at her.
Another woman, who has now left the House, talked about sexual harassment by an unnamed individual: "My career at the House of Commons didn't end when I was sexually harassed. My career ended when I complained."
Others described a "culture of fear" in the House, as people worry that, if something happens, they will not be looked after.
A House of Commons spokesman said it was a "responsible and supportive employer" and did not tolerate "bullying or harassment of any kind". 
The programme claimed that Bercow undermined Kate Emms, who had a short tenure as Bercow's private secretary from May 2010 to February 2011. It was alleged that Bercow appeared to frequently shout at her and Emms left her post after authorities were told she had PTSD.
The Speaker's spokesman said Bercow "utterly refutes the allegation that he behaved in such a manner, either eight years ago, or at any other time. Any suggestion to the contrary is simply untrue". 

Other politicians who faced accusations include the Wrekin MP Pritchard. Clerks claimed that he was "particularly nasty to those he felt were below him" and was "known for having a dreadful temper". He allegedly swore at an official, telling her "you haven't got a f***ing clue what you're talking about".
Pritchard said: "I understand, over the past several years the House authorities have addressed numerous complaints about MPs, but they have also informed me they have no record of any complaints against me, and if they had, I would have been notified." 
Farrelly, a member of the culture, media and sport select committee, had a formal complaint made against him in 2012 in relation to his treatment of clerk Emily Commander.
The inquiry concluded there had been "an abuse of power or position, unfair treatment and undermining a competent worker by constant criticism" adding "the conduct was offensive and insulting".
But the House of Commons commission, a panel of MPs chaired by the Speaker, could not reach a decision on what to do, Newsnight said. 

Speaking on the programme, Farrelly said: "In 2012 allegations were made about me having bullied a clerk to the committee during the compilation of the phone hacking report.
These allegations were investigated and not upheld. Despite this, I apologised if I had inadvertently upset the clerk who had suffered stress."