Exclusive: £3.3bn deal nears for staff in England, eight years after last meaningful pay rise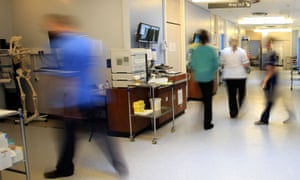 The government is set to offer around 1 million NHS staff a 6.5% pay rise over the next three years but is insisting that health workers give up a day's holiday in return for the £3.3bn deal.
Ministers hope they are close to finalising a package to give NHS personnel in England their first meaningful pay rise since 2010, after months of behind-the-scenes talks with union leaders.
The Treasury and Department of Health and Social Care plan to propose that all non-medical NHS staff in England receive a 3% increase in their salary in 2018-19 – the current rate of inflation – and then rises of 1%-2% in the following two years. Nurses, midwives, healthcare assistants, ambulance staff and all other workers except doctors and dentists would benefit from the scrapping of the hated pay cap. Doctors and dentists have a separate pay review system.
The deal the government is preparing to formally put to staff later this month would also see some NHS personnel get pay rises of 10% and, in certain circumstances, well above that by 2021. Those on the bottom of the NHS's nine pay scales would get a bigger uplift under Agenda for Change – the agreement that governs the earnings of health service staff – than colleagues who earn more because they are higher up that pay band.
The 14 health unions that have been negotiating the details of the government's offer, in conditions of strict secrecy, are cautiously optimistic they will feel able to recommend it and that their members, who include Unison, Royal College of Nursing, Unite, the GMB and Chartered Society of Physiotherapists, will endorse it.
Sources close to the talks say they have been constructive, businesslike and highly detailed, with both sides keen to see NHS staff pay improved as much as possible. A plan for the chancellor Philip Hammond to unveil the offer in his Spring Statement next Tuesday has been abandoned, however, as there are still some sticking points to be resolved.
Ministers' determination that staff forfeit a day's holiday in return for the pay rise could derail the chances of the Treasury and unions agreeing a deal, especially if that provokes a backlash among staff, many of whom already do regular unpaid overtime and have seen their real incomes cut by up to 14% by the years of austerity-era tiny rises.
But government negotiators have made clear that staff working one extra day a year is a "red line" that for them is non-negotiable. If union members refuse to accept that, ministers will withdraw their offer in its entirety and may impose the 1% pay rise that was planned before anger at eight years of zero and 1% public sector pay rises proved so politically damaging for the Conservatives in last year's general election campaign.